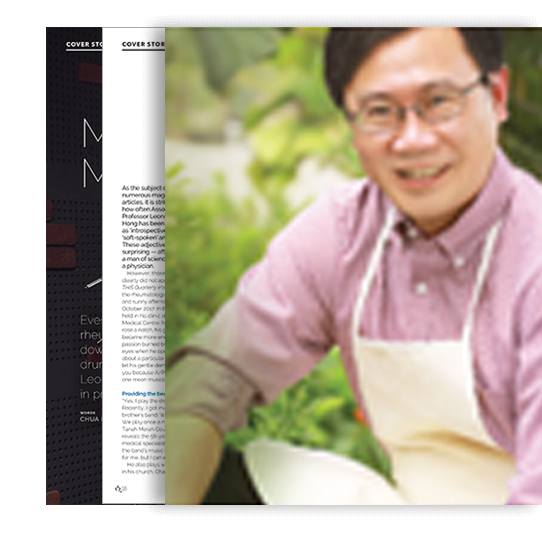 Joint
Lesson
Inside
2014/2015
Many people have the misconception that rheeumatology deals with old people, but much of this branch of medicine affects the young.
Adjuct Associate Professor Leong Keng Hong, one of Singapore's leading rheumatologists shares his passion in his medical field, and tells us more about juggling his many interests.

Mild-mannered, genial and a man of many hats - these are a few things you will observe of A/Prof Leong Keng Hong when you meet him for the first time. Having dedicated his academic and professional life to rheumatology studies, A/Prof Leong is nowhere near being bored of the subject; a fact evident when he talks about his passion.
"Rheumatology is a branch of internal medicine that deals with the immune system," explained A/Prof Leong. "Many people have the misconception that rheumatology deals with old people, but much of this branch of medicine affects the young, specifically in the area of autoimmune diseases like rheumatoid arthritis, lupus and such.

"I find autoimmune diseases very fascinating. At the forefront of medicine, you have genetics and immunology. Autoimmune diseases are related to the latter, and there is a lot of basic science involved; in the diagnosis of these diseases, you also require a lot of clinical skills. Rheumatology, to me, offers a blend of these two, which was the reason why I was attracted to this field."